Those who know me, know that for the LONGEST time I've loved old stuff, especially mechanical in nature…  cameras, sewing machines, radios, lanterns, but most of all, cars!
For whatever reason, I've always had a fascination with the 1957 Chevy Bel Air.  I've built models of it, have die cast versions of it – for no particular reason I guess other than I like how it looked.
For my high school graduation, I was insured for 24 hours on a 1948 Ford Mainline.  It was a friend of my fathers, and I was floored when he parked it in my parents garage for the week to let me polish it up and drool over it non stop!  Forget the formality of graduation, I just wanted to stay behind the wheel!  The date was July, 1993.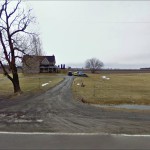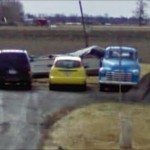 5 years later I took my first job.  And a few years after that, bought my first house.  My daily commute would take me by an old farmhouse on Fallowfield Rd.  For about 9 years I drove by this house and saw the same blue truck parked along side one or two other vehicles.  I always thought about stopping and checking it out, but I was usually in a rush to get to work, or too tired to stop on the way back!
For 9 years total I drove by that truck 5 days a week.  It ocasionally changed parking spots on the property, but it never left.
August 27th, 2010 –  Heather (my wife) and I were heading to my parents for supper.  Travelling along the same route that takes us by the blue truck.  As we approached the property, the truck had been moved.  It was parked up close to the main road!  As we got closer, the red and white sign posted in the bed became visible!  "FOR SALE"!    Whatever we were talking about was instantly interrupted by thoughts of purchasing this truck!
We were late for supper at my parents, so there was no time to stop and look.  I still didn't know what it was, or how much was being asked.  All I knew was that I was going back in the morning to check it out.  I secretly told myself that if the truck was $5000 or less, I would take it, the keyword being secretly, I'd have to get Heathers blessing first!
August 28th, 2010 – That morning, I got up and asked the girls (my two oldest)  if they would like to join me to go see the old truck.  They were excited to go, and off we went!  Shortly after we arrived we were greeted by the owners father.  As we talked about the truck, I learned he was a retired firefighter – and he kept the girls entertained as I crawled all over the truck snapping photos like mad.
It was a 1949 Chevy 1434.  Built in Oshawa, Ontario and shipped to Saskatchewan, Alberta to spend its life as a grain truck.   It had a 216 (non original) but it ran.  I was speechless when he showed me that it was a dump truck!  The bed actually dumped!  Spending its life in the prairies meant a very solid body and frame.  No salt to rot it out.  How it found its way back to Ontario is unknown, he had bought it 9 years previous in Gatineau, QC.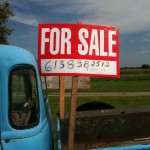 I got to see the For Sale sign up close up.  "$5000 – FIRM".
August 29th, 2010 – I returned on my own to meet with the owner.  He wasn't there the previous day.  He described to me how he had planned to restore the truck to original for his dad, but due to life and other priorities, that just didn't happen.  It has sat in the yard for 9 years – it was time for it to go.  After kicking the tires, and doing whatever research I could on the net, I made him an offer of $4000.  He flat out rejected.  He came back at $4500 – which I rejected!  I offered $4250, but he wouldn't budge.  I ended up leaving empty handed, confident he would call me back offering to sell it for $4250 – I had given him my number.
August 30th, 2010 – Sleepless night, no call…
August 31st, 2010 – Another sleepless night, still no call…
September 1st, 2010 – I couldn't take it.  I had all the "what if" conversations with Heather. I surfed as much Internet as I could trying to find comparable prices on trucks – any trucks I could find were usually cheaper, but also 100's of kilometers away, requiring hefty shipping charges.  This one was in my backyard!  Only a 10 minute tow away!  Heather must of been sick of my moping around, as she told me to just buy it!
So I called up the seller, and got talking to his father again, and was very relieved to hear the truck hadn't sold yet.  I arranged to meet him (the owner) at 5pm later that day.
We settled on $4,500, I handed him a certified check, and he handed me the keys!  It had no functioning brakes (It's 60 years old!)  so it needed to be towed home. (not to mention its "UNFIT" status on the registration!)  However, they did let me start it up and take it for a drive around the farm!  Loved it! By 6pm, the flatbed arrived to take my new toy  home!